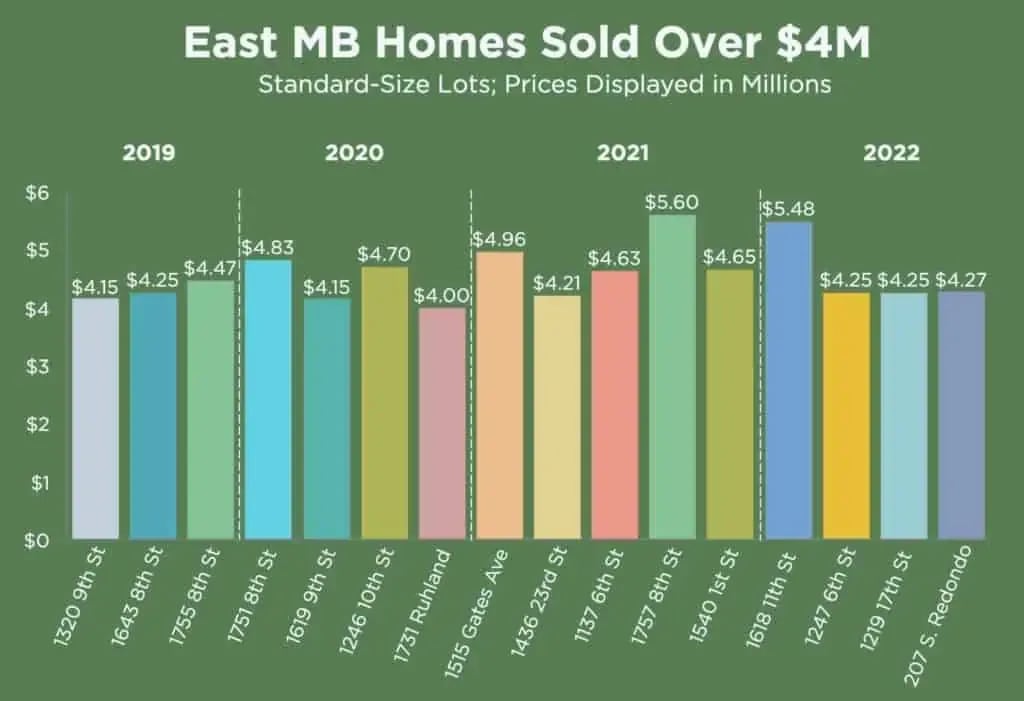 It took a long time for any East Manhattan Beach homes on typically sized lots to sell over $4M.
The first time it happened was in 2019.
Then, it happened 6 more times before year-end 2020.
All of those homes were new construction.
Six more times from 2021 through early 2022, new, or at least "newer," homes sold over $4M. (Two were 2019 builds, neither of which had originally sold over $4M, but did upon resale.)
---
Please Note: The properties below were or are listed and brokered by a variety of agents and firms, not Dave Fratello or Edge, unless noted. Click on any image or linked address for full details. The name of the listing broker and agent for each linked property is displayed with each listing.
---
Now, here's what's new: The last 3 East MB homes to sell over $4M this year were a minimum of 10 years old.
---
Nerdy note: 15 of the 16 properties referenced above that sold over $4M since 2019 were on 7500 sqft. lots. One was a smaller lot (1219 17th). These are the only ones accounted for in the post.An additional 6 properties sold since 2019 in East Manhattan over $4M, but with larger lots, ranging from about 8,600 sqft. to nearly 21,000 sqft.