With the onset of July comes the chance to review statistics for the first half of the year.
To call the first half of 2022 a mixed bag would be fair.
Two trends seem to suggest completely different stories, as we shall see.
Let's look first at the number of homes actually sold in Manhattan Beach within these first 6 month.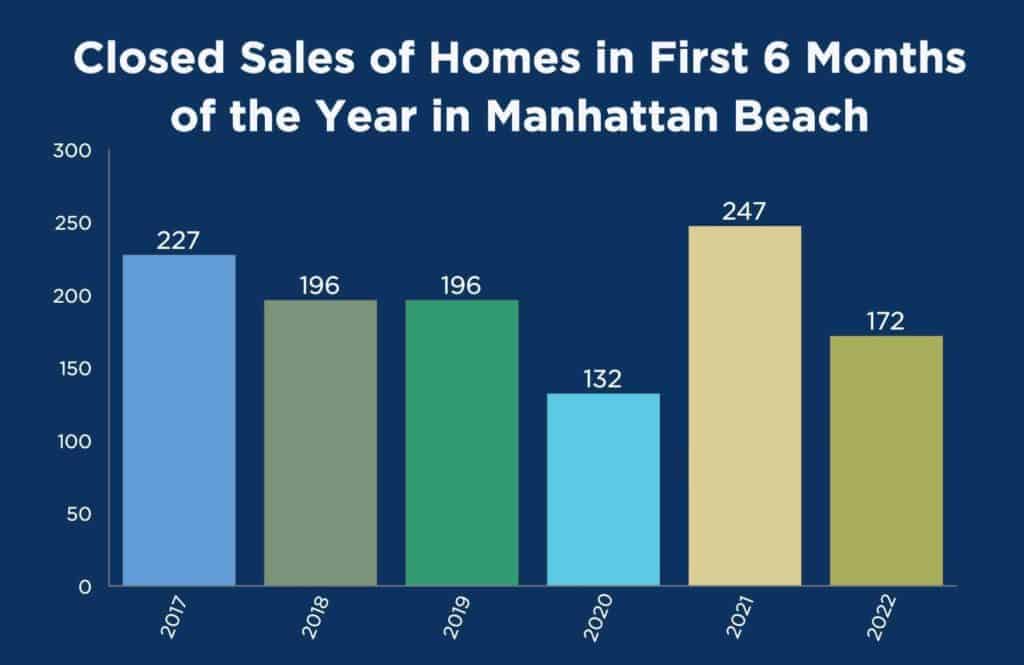 The cooling trend of 2022 is clearly evident in the fact that we saw 30% fewer closings than last year, with a total of 172 homes sold in Manhattan Beach during the year's first 180 days.
The total during white-hot 2021 was 247 homes sold in 6 months, besting 2017's recent record of 227. Naturally, we were going to have to come down from those lofty heights.
This year's 172 sales also put 2022 14% off pace for the average of the prior 5 years: 200 sales in 6 months. Maybe even that was to be expected, but don't you hate to be "below average?"
While these sales totals seem to tell the story of a cooling market, a different set of numbers suggests the opposite.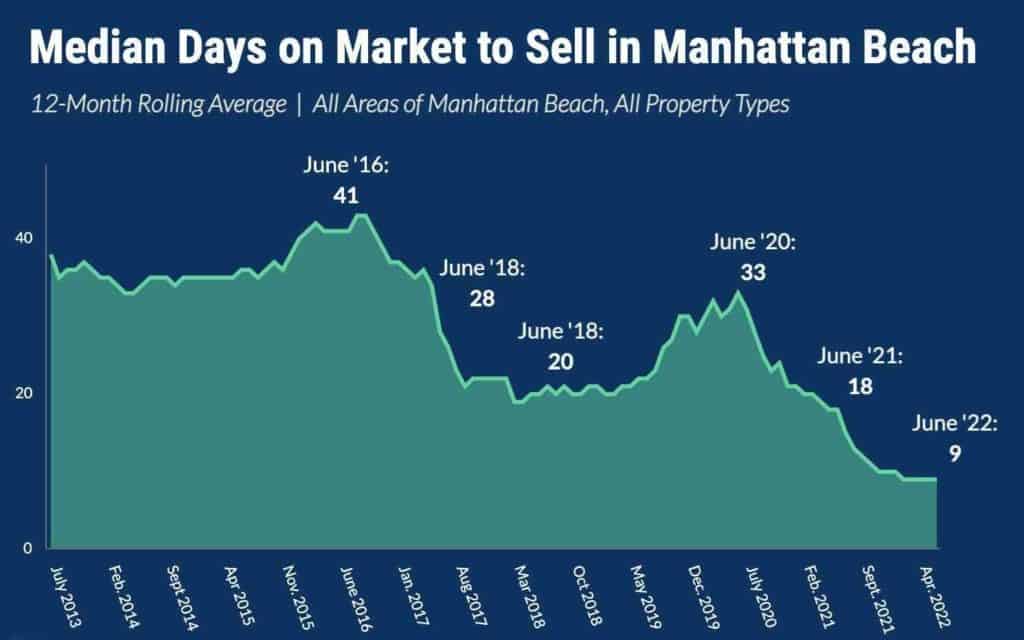 Quite simply, the median Days on Market for sold homes in Manhattan Beach has reached unheard-of lows. This means homes that do come to market, and do sell, have been selling very fast.
For the full one-year period ending June 30, the median Days on Market was only 9 DOM.
That was half of the 18 median Days on Market for July 1, 2020-June 30, 2021, and much lower than all recent June data.
If we look at data only the first 6 months of 2022 (as we did further above), we'd call this year mostly flat. The median DOM was 10 days for properties that sold as of Dec. 31, 2021, and stood at 9 DOM at the end of June.
All of those days-to-sell numbers use 12-month rolling averages, so they would be the slowest to report change. We also looked at individual months within 2022, to see if there's been any uptick in the time it takes to sell.
No, not yet.
March had 9 median DOM, April had 7, May had 12 and June just 8 median DOM.
For most of the past 10 years, the comparable figure for median DOM has hovered in the 20s and 30s in Manhattan Beach. We're still far below those levels.
The secret explanation to both declining sales and declining DOM?
Inventory.