RENOVATE TO SELL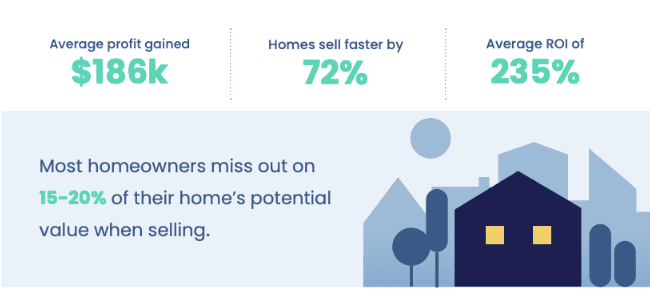 No Upfront Costs and $0 Due Until Closing.

You probably know that homes that are clean, updated, freshly painted, and staged sell for more money. It's what Edge always recommends for our seller clients.
If you have ever thought to yourself, "I'd love to renovate and stage to sell, but I don't really want to put up the cash," we've got a solution for you!
At Edge, we provide our clients with options to help make the process easier & more accessible. With the help of our partners at Revive, we can help ready your home for sale, with no upfront costs and $0 due until closing.
Funds can be used for renovations, painting, and staging. It's a transparent process, with lots of planning and options before any money is spent, and before any work is done.
The difference can be tremendous, with tens of thousands, or even hundreds of thousands of dollars more for you at the conclusion of the sale.
At Edge, we are dedicated to helping our seller clients maximize their profits. This is another great option for our seller clients to help get their homes market-ready.

Helping Homeowners Achieve Maximum Profit
Every home needs some love before it goes to market. Most homeowners miss out on 15-20% of the value of their home by not making the necessary rehab before putting their home on the market.
We want to make sure that is never the case for our clients. Whether the renovations are major or minor, we are there with you every step of the way, alongside our trusted team at Revive.